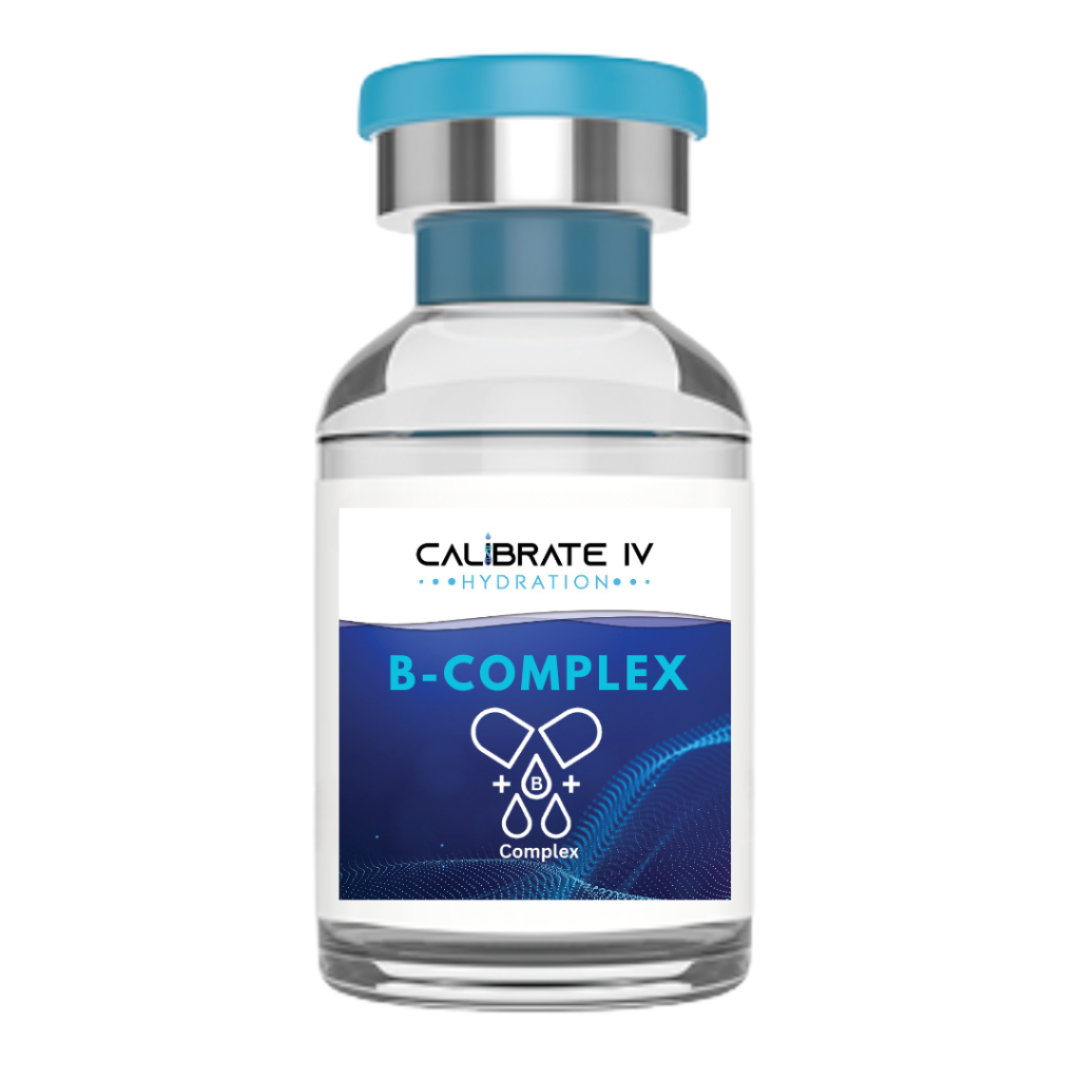 B-Complex Injectable HOMEKIT
Description
ADD ON-SERVICES/BOOSTERS
Experience the Power of B Vitamins with our B Complex Injectable Kit, which includes the following B Vitamins in convenient syringes along with essential accessories:
B-Complex | Each mL of our injectable solution contains:
Thiamine HCI (Vitamin B-1) | 100 mg/mL
Riboflavin (Vitamin B-2) | 2 mg/mL
Niacinamide (Vitamin B-3) | 100 mg/mL
Panthenol (Vitamin B-5) | 2 mg/mL
Pyridoxine HCI (Vitamin B-6) | 2 mg/mL
Also included:
Syringes
Alcohol Pads
TeleHealth Consultation
Benefits of B-Complex Injectable:
Boosts energy levels for a revitalized feeling
Improves metabolism for better nutrient utilization
Enhances digestion and nutrient absorption
Promotes a positive and uplifted mood
Supports healthier hair, skin, and nails
Helps maintain healthy cholesterol levels
How B-Complex Injectable Works:
Our B Complex Injectable provides a potent blend of five essential water-soluble B vitamins, crucial for the growth and maintenance of healthy cells and tissues. Each B vitamin performs distinct functions, working synergistically to deliver the desired effects. Our B Complex injectable includes Vitamin B1 (Thiamine), Vitamin B2 (Riboflavin), Vitamin B3 (Niacin), Vitamin B5 (Pantothenic Acid), and Vitamin B6 (Pyridoxine). Several factors, such as age, medical conditions, medications, alcohol consumption, genetics, pregnancy, and dietary choices, may indicate a greater need for B vitamins.
Regular weekly or bi-weekly injections may alleviate fatigue, boost energy levels, and uplift overall mood. It serves as an excellent supplement for promoting healthier nails, clearer skin, and shinier hair. B Complex is one of the most crucial vitamin complexes for maintaining optimal health.
* Please discuss add-on options with your nurse.
Arginine HCL
Biotin 
Carnitine 
Chromium 
Hydroxocobalamin (B12)
Magnesium Chloride 
Niacinamide 
Taurine 
Ml Thiamine HCL 
Vitamin B Complex
Zinc (as Chloride) 10 mg/mL
No more products available for purchase